Wednesday 17th April 2013 from 1:00PM – 9:00PM
It's time for our annual open day and this year we are hoping it to be bigger and better!
This Year's event is  proudly supported by,
What can I expect?
FREE talks and workshops around the ideas of creativity, usability, user experience, web accessibility, mobile design, multitouch technologies, service design, tours of our state of the art interaction lab and more! As usual, we will have several talks running concurrently so take time in choosing your sessions, there are loads this year!
Who is this event for?
Professionals in the areas of UX, Usability, and Web Accessibility
Web Designers
Prospective and current students
Researchers
Curious minds
Who is presenting?
As well as our lovely staff and researchers of City's HCID Department, we are also pleased to have speakers from the below organisations presenting at our event;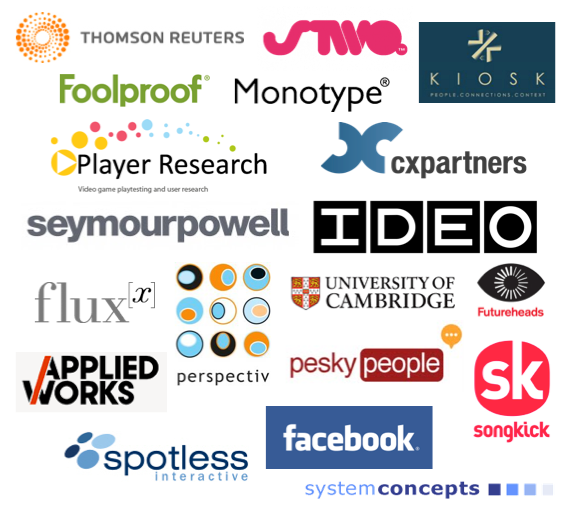 How do I register?
Click on the session names below if you want to attend! You need to register for each of the sessions that you would like to attend.
Times
Room A225
Room A226
Interaction Lab
Room A227
Room A214
Room A108
Room A111
1300 – 1310
Walking the Line: The Line of Product Development

Paul Dawson, Flux

Minimum Viable Research
Interaction Lab Tour
Successes and Failures of Working With and Visualising Data

Paul Kettle, Applied Works

Mobile Accessibility
DIY Accessibility,
Visualizing Structure in Complex Data

Prof. Jason Dykes, City University London

1310 -1320
1320 – 1330
1330 – 1340
1340 – 1350
Designing a Masters Curriculum

Dr. Simone Stumpf, City University London

Interaction Lab Tour
1350 – 1400
1400 – 1410
So You Think You Know How to Brainstorm? Alison Duffy & Sue Whittle, Perspectiv
1410 – 1420

Has Business Accepted User-Centred-Design?

John Waterworth, FoolProof

Creativity and Learning Through UX Thinking and Design

Dr. Patricia Charlton, London Knowledge Lab

Creativity Support Tools – Do They Really Help?

Dr. Sara Jones, City University London

Type on Screens. What to Consider and Why

Dan Rhatigan, Monotype

From Niche to Normal

Dr. Ian Hosking, Cambridge University

1420 – 1430
1430 – 1440
1440 – 1450
1450 – 1500
1500 – 1510
Multi-Device User Experience Research

Ben Logan, Spotless Interactive

Bananas, Technology and Magic: Utilising Research Methods When Designing New Experiences

Adrian Westaway, Vitamins Design

Interaction Lab Tour
Kansei Engineering in User-Centred-Design

Mobina Nouri, City University London

Storytelling applied to the digital context

Rebeca Miranda, System Concepts

Mobile Communities a New & Faster Way to Connect, in an Always-on World

Dave Kaye, Kiosk

Positive Psychology & UX : Enabling Success and Wellbeing

Patrick Jordan, City University London

1510 – 1520
1520 – 1530
1530 – 1540
1540 – 1550
1550 – 1600
Beautiful Complexity

Andrew Merryweather, Thomson Reuters

Digital by Default (Not)

Alison Smith, Pesky People

Interaction Lab Tour
What's The Value of Ethnographic Research?

Simon Johnson

Colour Psychology

Angela Wright

Visualisation Data for Creativity in Co-Design

Graham Dove, City University London

Making Accessibility Accessible

Mike Douglas, UsTwo

1600 – 1610
1610 – 1620
1620 – 1630
1630 – 1640
1640 – 1650
Designing a Masters Curriculum

Dr. Simone Stumpf

Interaction Lab Tour
1650 – 1700
1700 – 1710
1710 – 1720
The error of context: everything you think you know is wrong and what to do about it

Participatory Design – Stories from the GReAT Project

Abi Roper, City University London

Investigating Perceptible Affordances of Natural User Interfaces

Jacques Chueke, City University London

Game Design and UX

Graham McAllister & Seb Long, Player Research

How to Manage an Interview Well
Ways of seeing: Innovative Research Techniques In Video Ethnography

Nick Leon, Naked Eye Research

1720 – 1730
1730 – 1740
1740 – 1750
Interaction Lab Tour

Register

1750 – 1800
1800 – 2130
Keynote Talks: Mark Tonkelowitz – Facebook, Matthew Cockerill – Seymourpowell, Juho Parviainen – IDEO